French Tarot (jeu de tarot) is a classic trick-taking card game for 4, played with a tarot deck. As the name suggests, Tarot card game is most popular in France, but it is also widely played in the French-speaking parts of Canada. Known also as 'the Game of Kings', the game has alternatives where it is played by 3 or 5 players.
Play French Tarot
To have fun with Tarot online is never been easier.
The most unique and a bit confusing part of
French Tarot
is that it is simultaneously a team game and a solo game. In the end, the player with the most points is the sole winner, but each round the gameplay opposes three players against one. Teams shuffle when rounds change and player dynamics can escalate quickly. That's what makes the game so fun to play.
You can enjoy VIP Tarot on any device with just one account, no need for multiple registrations.
Play on your smartphone, tablet or laptop for free. Download the app from the Google Play store or simply start the game in your web browser.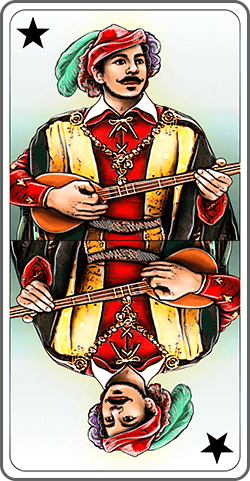 French Tarot
is played with a special deck designed for the game. The Tarot deck consists of 78 cards – the four standard suits plus an additional 21 numbered trump suit. The standard decks have 14 cards of a suit – 1 to 10, Jack, Cavalier (a new card), Queen, and King. There is also one extra card with a special function – the Fool.
Learn the full rules of Tarot.
Key Features and Benefits of VIP Tarot
Community
Write in the global chat and share your thoughts and interests with the other players
Change your avatar, fill your location and write a status
Send voice messages to your friends while gaming
Like the profiles of other players and write them a private message
Benefits
You can play the game on all mobile devices, Facebook and on the web
Play with 3, 4 and 5 players
You have the ability to create custom games with custom bets and turn time
Receive free welcome and daily bonuses
Features
Four weekly leaderboards you can compete in
Create your own club and invite your friends to join you
Upload your favourite pictures to your personal gallery
Make your profile and game unique with the various items that you can acquire with gems